Elliott has adhered to a strict
I am only read to
policy at bedtime for quite some time now, despite being able to read many of the books he requests that we read to him. This is good. Bedtime should be about centering and connecting over a book and is not the time to struggle through arduous decoding and phonemic awareness.
But, just two nights ago, while ready and waiting for his nighttime reading with us, while we ran about with homework and laundry and lunches and such, Elliott walked over to his book shelf and pulled out an old favorite.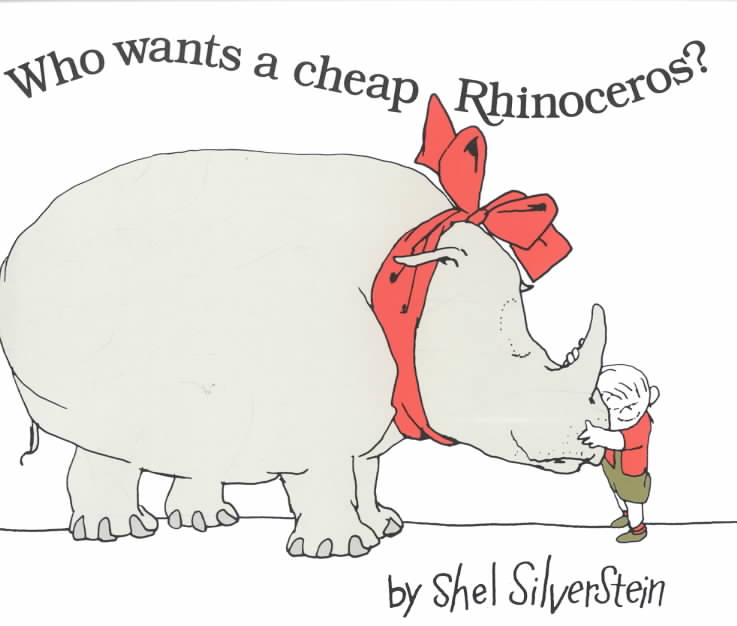 As I passed through the room with a pile of clean folded towels on my way to shove them into the linen closet, I heard him speaking quietly. And then realized he was reading. I felt a mix of pleasure at hearing him do this and also a bit of guilt.
It reminded me of a story that a friend told me years ago about her second child, who she worried she had less time and patience for than she had had for her first child. When her second born had hurt himself one day, she had moved toward him and asked him if he wanted her to kiss his hurt hand.
It's okay Mommy
, he said,
I kiss it ma-self
, then planted a big smacker on his hand and moved on.
So Elliott was
reading hisself
. Which is great. But maybe it was because no one else was available.
I plopped the towels down on the dresser and crawled under the quilt with him. And listened to him finish the book.
He, as usual, skipped the pages that he does not like. These pages involve being mean to the poor rhinoceros.
And we -- as usual -- whenever we come across Shel's darker moments, did our best impressions of
Shel singing
, our code for
Shel was an unusual man, with an unusual mind. But we still love him. Mostly.
He listened to me as I told him how much fun it was to listen to him read, and then he interrupted me to say anxiously:
Are you still going to read me a story?
Well of course. Do you want to go pick one and bring it back?
It was warm under that quilt...
He came back with
The Curious Garden
, and wanted to spend some time together comparing the endpapers at the beginning and at the end, flipping back and forth between the gray and desolate landscape of the beginning and the lush, green, and growing landscape of the end. Then I read it to him. And we looked at the endpapers again. It felt good to be able to return to what are old favorites for all three children, to focus on the pictures and the simple familiar stories.
For Elliott, returning to loved and often read books is comforting. Looking again at pictures we have scanned together is like returning to an old friend. Reading them himself, that's a whole new level of friendship. Both Julia and Nicholas this week have needed to select new books for their independent reading. And the way they both began their searches, by returning to the familiar books and authors and genres first, reminded me of just how strong the relationship is between children and their beloved books. A kind of rapprochement, where we return to what we know, and then we move outward and try something new.
Nicholas and Julia both perused the book lists on their school library website, reading book summaries and writing down a few titles that looked interesting. Jonathan and I created lists of books we wanted to recommend, too. Thus ensued, for both of them, a
book frenzy
.
For Nicholas, we were a bit limited by his requirement, a good requirement, that they sample from different genres each time they choose. He intelligently saved the one allotted fantasy genre book for the mid winter slump and read
Gregor the Overlander
by Suzanne Collins for his most recent book. But now, his remaining permissible genres are a bit outside his comfort zone. He settled on reading something that was realistic fiction.
Here is the list that he, Jonathan, and I generated:
Navigating Early
, by Clare Vanderpool
Twerp,
by Mark Goldblatt
Hatchet
, by Gary Paulson
Okay for Now
, by Gary Schmidt
Ungifted
, by Gordon Korman
Dead End in Norvelt
, by Jack Gantos
One Came Home
, by Amy Timberlake
Nicholas had said, when considering this genre, that he wished he could read something like
Wonder
, but we had already done so this past summer. While searching about, we happened upon the upcoming publication of R.J. Palacio's
The Julian Chapter
, and preordered it. We were that excited.
With that on our minds, just how Palacio would treat Julian in this chapter, with anger or understanding, would we all come out feeling a little kinder toward him, as we did after hearing Julian's own precept at the end of the book, we found
Twerp,
and ultimately this is the book that Nicholas has chosen to read next. Which seemed kind of like it might be a
Julian Chapter
, but as a full book. A book about a boy who makes a mistake, and then needs to move forward. Nicholas was intrigued, as he has been intrigued by Julian from the start, wondering how much of Julian he might have within himself. You know, the whole
am I Anakin or Luke Skywalker struggle
of every middle school child. So I dashed off to the library to snag
Twerp
and brought it home. He asked if he could read a few pages while I finished up dinner. Let's just say that it was difficult to get him off the bench and to the dinner table later.
Next night was Julia's book frenzy. She is fresh off
Mr Terrupt Falls Again
and
Boy on the Porch
. Unlike her older broth, this is a realistic fiction girl at the core. She sniffled for a bit about the fact that
Julian
would not be available for several more months, and then searched around a bit to see if any of her old standbys had perchance released a new book. Our Google search history reveals Linda Urban, Kathryn Erskine, Jacqueline Kelly, and Jeanne Birdsall were all queried as to just what in the world they have been up to these days that is more important than giving Julia another story to submerge herself in. Her list was a bit affected by listening to some of the choices she had heard from Nicholas' list the night before.
Okay for Now
, by Gary Schmidt
That Girl Lucy Moon
, by Amy Timberlake
Moon over Manifest
, by Clare Vanderpool
Hokey Pokey
, by Jerry Spinelli
Inside Out & Back Again
, Thanhha Lai
The Lions of Little Rock
, Kristin Levine
Hilariously, while I asked her to give me a minute to add to the list she had created, she said sure, sat down next to me with a book I had left sitting on the library book shelf, one I had grabbed from the newly acquired shelf at our library, and began to read. It was
The Truth of Me
, by Patricia MacLachlan.
I dashed off to bee class with a quick stop at the library to pick up her choice from the above list. Since I was, as usual, running a bit late, I considered not stopping at all since she was already so into
The Truth of Me
that she did not respond to me when I gave her a kiss on the head and ran out the door and likely, I thought, would not need a new book for a few days. But when I returned home, her book was waiting with her homework folder on the counter. The book mark showed she had read more than half of it while I was gone.
Her choice for her next read was
The Lions of Little Rock
. I am going to read this one along with her, or close -- while panting and gasping for breath as I try to keep up with her as best I can -- behind her. The content of this one makes me want to be able to discuss it with her as she reads to know what she might be grappling with as she moves through it. I don't really know why I am worried. Through her other reading, she has encountered child abuse, sibling death, sickness, autism, maternal death, and maternal death again followed by complete orphanization, oh and that happened to a child with autism...and she keeps jumping in this puddle of sadness for more, so she clearly has her coping skills attuned and at the ready.
What am I reading? Well. I just finished reading my latest modern fractured fairy tale,
Boy, Snow,
Bird
by Helen Oyeyemi. Oh my, that was a good read. It was devoured, along with enormous bowls of popcorn, burp, in just a few nights. I would really like to jump into my new Wally Lamb book. It has been waiting patiently for me.
Problem is, I try to keep up with what the kids are reading. And I have gotten a bit behind by reading nonstop once I became entranced by
Boy, Snow, Bird
. And before that, well, you know, falling asleep on my book, the lines of page edges pressed into my forehead. I don't think Julia is quite ready for
Boy, Bird, Snow
, and Nicholas is not much of a reading about fairy tales and girls kind of kid. So I can't make up for time by dangling this book like a carrot in front of them while I limp ahead like the tortoise.
So my pile, and my overdue late fees at the library, are building up. The librarian informed me of my high balance when I checked out books for Julia's frenzy.
You are getting dangerously close to losing the ability to check out new books due to you library fees.
There was no time, and no cash in my wallet to settle up. They will be okay. They can buy a new book off my current late fees. I wonder what it will be...
I have jumped into
Mockingbird
, by Kathryn Erskine. Julia read this book a few weeks ago and loved it. And asked me to read it.
I told her at breakfast this morning that I had started it the night before.
Good.
She said out of the corner of her smoothie glass.
Because there are some things in that book that I want to discuss. Keep reading.
Well. I have some work to do.