Ooh. Ooh.
I have good news.
I am in a book. But not that one. This one.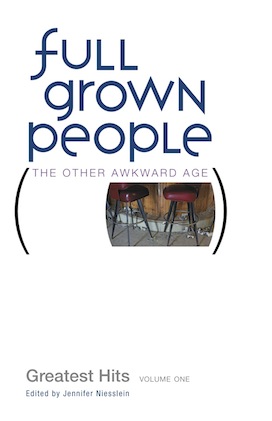 I will tell you something important. There is an essay in there that will make you say a word that might make you feel a little bit uncomfortable. It sounds kind of like
banana.
Well, not really. But that is a teaser.
And by "we", I mean me. And
29 of my friends
. Who I have never met. But trust me. They are awesome.
This almost makes up for the times I was chosen last in gym class. Almost.
This book is the result of the work of Jennifer Niesslein. Who I adore.
I also have never met her.
Internet relationships can be weird.
But somehow? Not with Jennifer. She is extremely talented. And smart. And kind. And supportive.
And funny! Because late one night we exchanged funny videos between us about band nerds.
And she knows how to bring together some amazing people who want to write for her. And she knows how to bring out their best.
There are more intelligent people who can put together better words.
Like this:
Full Grown People is my new appendage. I've dragged it everywhere, reading each essay again and again, reliving their surprises and sorrow and humor (in my case, the snort-laugh variety). As individual pieces, they tackle the joys and challenges of this beautiful mess of a life—fear, faith, class, health, healing, staying/going, kids/no kids, and love in its wild and myriad forms. Taken together, they challenge us to consider what happens after the coming of age, posing questions of this world that I didn't know I had and giving me a part of myself that I didn't know was missing. Jennifer Niesslein has done the impossible with this anthology: inspiring us not just to survive this life, but to live the holy hell out of it.
For me, I am just feeling incredibly lucky.
And feeling like you should
order a copy
.